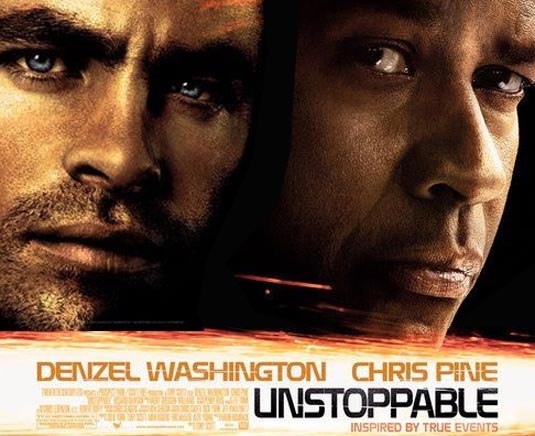 From
director Tony Scott
comes another heart-stopping action movie. Frank (
Denzel Washington
) and Will (Chris Pine) set out on a terrifying mission. They have to stop a train going full speed, with toxic fluid in the back, from running down a city. Bulldozing anything that gets in it's way, this train is truly terrifying. Panic, not knowing how to stop the train, infuses everyone. Two men come to the rescue, making plans, deadly plans, to stop this train then moving into action. Will they stop the train before it's too late? Guess you will have to watch to find out.
Though let me share with you my four favorite things about this movie; action, Denzel Washington, Chris Pine, and Chris Pine! Denzel Washinton is such a great actor, with hottie Chris Pine and action included!
This movie has a few things to watch out for. Frank's daughters work at Hooters, meaing we get to see there 'uniform'. Also, Will is seen in just his underwear and his wife is seen a in cleavage-bearing top. The langauge in this movie is a bit harsh. The F word is used once and God and Jesus's name is misused quite a bit. Also, a rude gesture is made. I'd take some consideration before seeing this movie.