Changing your hair routine is not hard but can take a little extra work. A new hairstyle can brighten any outfit, while having the same one everyday is boring. Taking good care of your hair is a must since healthy hair is the foundation for every hairstyle.
Unless you have really

oily hair

, don't wash your hair every day. If you are a curly girly like me my stylist recommends washing only once to twice a week. For you curly girls who are thinking Yuck! My hair would be so gross if I only washed it once or twice a week. Believe me I was skeptical at first but my hair looks a lot better, and I still shower and rinse my hair everyday so my products to get washed out on a daily basis.
There are many simple hairstyles you can try to change up your look. Here are some ideas you could try.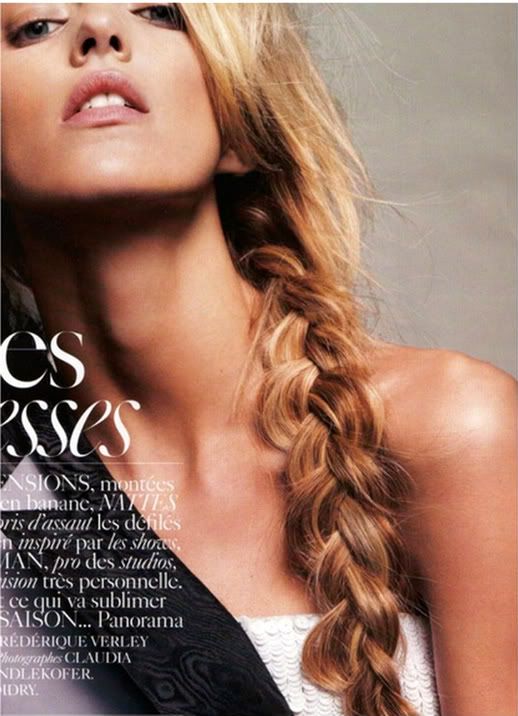 Try a mini braid starting at your part. ( French looks best but normal braid work as well)

Try a

French braid

in the back or one on the side. If you don't know how to French braid, look up videos on you tube on how to french braid.

Loose low pigtail braids are really cute and simple.
This picture is an example of a type of french braid you can do. This one is a long, loose french braid.
Curly ponys are super cute! If you don't have naturally

curly hair

, curl your hair after you put it up

Try a half up pony. This style looks good with all hair types, though it is easier to do with straight hair
A loose messy bun on the middle of the back of your head is so cute and perfect for when you're having a not so

good hair

day. If you can't get it to stay with just bobby pins try putting it up when your hair is slightly damp.

A polished low side bun is a great style for going out.
Try headbands, bows and clips to add extra flair to your style.

Just before you get out of the shower rinse your hair with cold water- this makes it shiny.

Use serum to smooth frizz and create a polished look. (This can be purchased at your local drugstore)

Don't straighten, curl, or blow-dry your hair every day if you can help it.

Have fun creating a fabulously, fun new look!