Winter fashion is in full swing! Wondering what is in this season? Tall boots, chunky sweaters, ripped jeans and asymmetrical tops are! You can pull off all of these trends in a modest and downright stylish way!
From Uggs, or knock-offs if that's your thing, to ankle boots. From tall boots with big heels to short boots with itty-bitty heels, they're all in this season! Your fuzzy, suede boot can work with almost any style. It looks great with jeans for a cute, wintry look or even with sweats for a layed back, casual look. Boots with heels look great with dresses or over skinny jeans for a more dressed up outfit. If you're shorter, boots with some type of heel can give you a little boost and make any school outfit!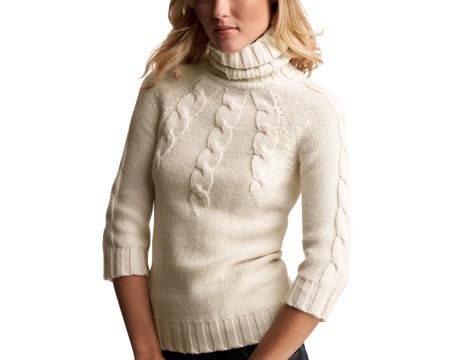 For us girls who love modesty, seeing the turtleneck come back into style is very pleasing. Sweaters are perfect for chilly days! You can match it with a scarf or necklace to add a little touch of you to it, and they can go with almost anything.

Turtlenecks

can be so versatile, as you can pair them with jeans or a pencil skirt.
Ripped jeans are everywhere! As long as they're not crazy and show too much skin through the rips, they're so cute. You can find them almost anywhere in all different washes and styles. They can be matched with your casual boots, if you are being more laid back, or can be matched with a heeled boot, if your are going for the more dressed-up look. Check to see if your school has a policy about your jeans before you wear them to school because some schools have rules about them. This can also help you decide how many pairs you want to have.
Asymmetrical tops are so cute; they come in all different shapes and styles. Some are one shoulder, some have a wrapped or draped look and others flow out at the bottom and create a triangle-like shape. Be sure to make the right, modest choice when buying asymmetrical shirts. Most of them are one shoulder, so if you buy one, make sure it can be made modest. These tops can be either casual or dressy, depending on what style you get.
Winter weather fashion is very cute and it's somewhat easier to find modest pieces. I hope you have fun winter- weather shopping!